THE MASK AND CLOWN INTENSIVE
June 21 – July 9, 2021
Baby Clown with John Turner of Canada's very own Mump and Smoot.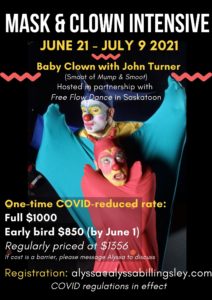 This 100-hour course, as previously taught at The Manitoulin Conservatory for Creation
and Performance, is the foundational course based on the work of Canadian Clown
Master Richard Pochinko. In this workshop, initial exercises awaken and encourage a
sense of pleasure, an awareness of the audience, and an honest physical and emotional
response to internal impulses and external events. It is not necessary to be a performer to take this course. All are welcome, from all walks of life.
Participants move through colorwork, varying processes of physicalization and
visualization, create and wear six masks and at the end of the journey, a baby clown is
born. This involved process explores the mask's innocence and experience and the
relationships between them.
This workshop is an intense blast and furnishes the participant with multiple characters
and a malleable structure for continued creative exploration with limitless applications.
100-hour course. Full-time attendance is required.
Being offered one time only at a significantly reduced COVID
reopening rate:
$1000 CDN
or
$850 if registered by June 1st, 2021
(Includes all materials: paint/paper/clay – 100 hours)
****If cost is a barrier, please message Alyssa to discuss ****
$400 deposit is due to guarantee your spot.
Full balance due June 15, e-transfer preferred
The current schedule is as follows but is subject to change:
'Day' means approx. 9-5
'Eve' means approx. 4-10pm
June 21 day
June 22 day
June 23 day
June 24 day
June 25 day
June 26 day
June 27 day
June 28 eve
June 29 eve
June 30 eve
July 1 off
July 2 day
July 3 day
July 4 day
July 5 eve
July 6 eve
July 7 eve
July 8 TBD
July 9 TBD
There is currently a maximum of 6 participants for this workshop. Participants must be
prepared to commit to every day of the workshop. Some work outside of workshop
hours may be required to finish off projects.
Interested participants, please message Alyssa with any questions and a short
paragraph about why you'd like to take this workshop.
Message Alyssa for details alyssa@alyssabillingsley.com